Men's Night Out - Featuring Adam Greenberg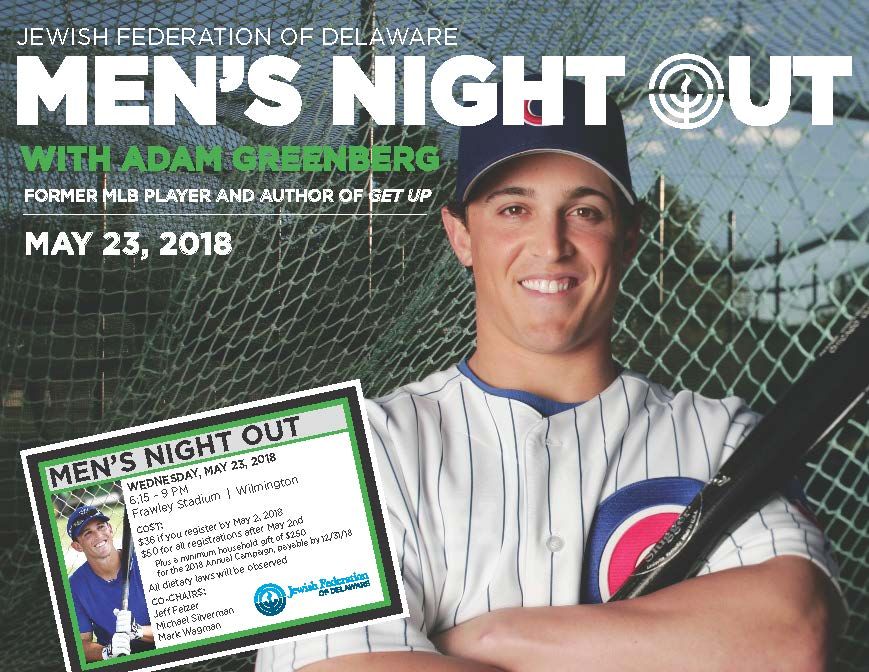 Event Co-Chairs Jeffrey Felzer, Michael Silverman and Mark Wagman invite you for an evening out with guys at Frawley Stadium.
* Featuring former MLB player and author, Adam Greenberg
Ticket Includes:
- BBQ style food
- Copy of Adam's book, "Get Up | The Art of Perseverance"
- Presentation + book signing by Adam Greenberg
- Option to have a catch in the outfield and/or take a few swings in the batting cage (waiver required)
- Locker rooms & Stadium Tours
Cost: $50
Open to all men making a minimum household gift of $250 gift to the JFD 2018 Annual Campaign, payable by 12/31/2018.
*All dietary laws observed.
**Must be 21 or older to attend this event.
Thank you to our generous sponsors:
Airbase Carpet and Tile Mart
Delaware Neurosurgical Group
Andrew Rosen, Diversified, LLC
Jeffrey Felzer, DMD, PC
Jonathan Jaffe
Pivot Physical Therapy
Schoenberg Memorial Chapel
Silverman, McDonald & Friedman
Stape & Associates
Mark & Sylvia Wagman
Martin Lessner, Young Conaway Stargatt & Taylor