How will you be remembered?
The Delaware Jewish Community Book of Life program honors donors who have formalized their gift for the benefit of our Create A Jewish Legacy partner organization's endowment funds. These individuals who sign the Book of Life made a commitment during their lifetime, or through a bequest, that a portion of their estate will remain at the Jewish Federation of Delaware's Jewish Fund for the Future as an endowment.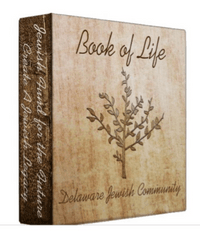 Click on the name of a person to view their Book of Life page.