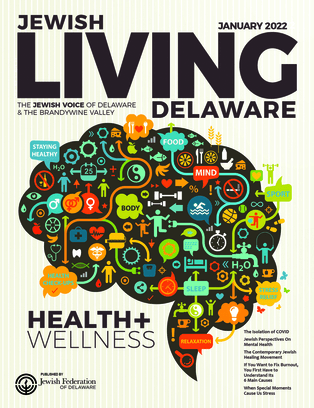 Wilmington, DE – Jewish Federation of Delaware has launched a new monthly magazine, JEWISH LIVING DELAWARE, beginning in January 2022 with the theme of Health & Wellness. The publication is replacing their long-standing J-VOICE Monthly (aka The Jewish VOICE) that first published in Delaware in 1929 with the Federation assuming publishing responsibilities in 1968.
"We are pleased to introduce JEWISH LIVING DELAWARE to our community," stated Seth J. Katzen, President & Chief Executive Officer of Jewish Federation of Delaware. "The publication is a natural evolution and progression to a monthly lifestyle magazine. Our loyal subscribers, supporters, and advertisers have a professional publication that appropriately invites and ignites our community. We Grow Stronger TOGETHER."
You can view/download the January 2022 issue of JEWISH LIVING DELAWARE at ShalomDelaware.org/publications.