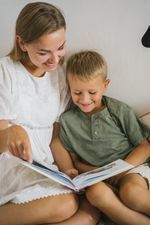 PJ Library® is an international award-winning Jewish family engagement program designed to strengthen the identities of Jewish families and their relationship to Jewish community. PJ Library offers free Jewish books and music each month to over 260,000 children between the ages of birth through 12 years in 37 countries.
The Jewish Federation of Delaware proudly launched this innovative program in the fall of 2011 and has more than 455 monthly subscriptions. PJ Library in Delaware and the Brandywine Valley is for children ages 6 months through age 8. 
CLICK HERE to register for PJ Library OR email Samantha Grundy, Outreach Director, at samantha@shalomdel.org
---
WHAT PARTICIPANTS ARE SAYING ABOUT THIS WONDERFUL PROGRAM:
"Reading 'Goodnight Sh'ma' is part of the bedtime ritual of our 2 year old daughter. One night, at the end of the book, she surprised me by reciting the Sh'ma all by herself - I was so proud of her and so happy to have PJ Library books in our home".
"The arrival of each new PJ Library book is a jolt of Jewish joy for our family as our five year-old beams with pride in his Jewish identity. The books enhance our family conversation and remind us of the creativity of the Jewish people."
"We love receiving our PJ Library Books! Maxwell rips open the package as soon as it arrives. He sits down & reads it! He enjoys telling the rest of the family the lesson or holiday he just learned about. During the holidays we use the appropriate book to help explain the meaning/purpose of our gathering. It is a terrific way to incorporate all ages. We thank you very much for our precious gift!"